Shoulder Joint Replacement
Shoulder Joint Replacement web based movie
Shoulder joint replacements are usually done to relieve pain and when all non-operative treatment to relieve pain have failed.
---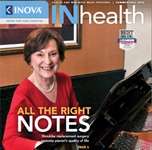 Barbara was recently featured in the the Summer/Fall issue of Inova INHealth Magazine. Read more about her story here
You will need the Adobe Reader to view and print the above documents.