Barbara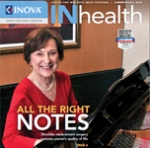 Surgery: Total Shoulder Replacement
Twelve months post-surgery, and I have just returned from a 3-week trip to Europe! Dr. Miyamoto's excellent surgery replacing my right shoulder has allowed me to return to a normal and pain-free life. Of course, I must add the focused and thorough regimen that the physical therapists designed for me helped get me to my current state of range of motion.
The road to recovery was long. Dr. Miyamoto said at the outset that recovery would take about six months, and that was true, but even after that milestone I continued with regular, daily exercises to increase strength in my right arm. As an aside, I am a pianist, still taking weekly lessons, so using my arms without constraints is very important to me. Except for the day of my surgery, I never missed a weekly lesson. My teacher selected two Scriabin pieces, written for the left hand only, so during my early recovery, I continued my studies and performed the works publicly on two occasions.
Because of this remarkable replacement surgery, I am living a full and active life—a real blessing as I approach my 73rd birthday! I am so glad that I made the decision to have the surgery. I didn't know anyone who had had this type of replacement before I made my decision, and I admit that it was only the unremitting pain and lack of the use of my right arm that "forced" my decision.
If you or anyone you know is contemplating this surgery, please know that the outcome is far better than one can imagine! I was able to manage my travels with no physical restrictions. In some countries the titanium in my "bionic" arm triggered the security mechanism. No amount of discussion or showing them the implant card would convince the authorities, so I endured some pat-downs—good for a few laughs from my grandson!
Now, I am beginning to experience pain in my left shoulder, which is riddled with arthritis. . . .
Barbara was recently featured in the the Summer/Fall issue of Inova INHealth Magazine. Read more about her story here