Craig and Kandi Molyneaux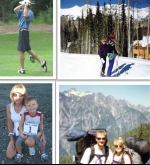 We live a very active lifestyle which has included daily exercise for most of our lives. We are avid runners, including community 5k and 10k races. We are also both regular golfers. Other activities include biking, backpacking and skiing. Golfing and running are also activities we enjoy with our family. Most of our vacations center around one of these activities or more. Through years of activity we each developed labral tears in the hip joint.
Craig's symptoms began as a sharp pain in the hip area during rounds of golf. Half way through a round he would experience sharp pain followed by soreness. He'd usually have to walk the last few holes with a noticeable limp. Pain was most severe during runs. The last 10K I he ran me before being diagnosed was more of a walk/trot with severe post-race soreness and stiffness.
For Kandi, the pain had been building up over the years and got to the point where even sitting for more than half an hour was quite painful. I assumed it was arthritis or some other age-related issue. But then over the course of a few weeks the pain escalated to the point where one day on a long run I had to limp home. I had sharp pain as well as pain in the areas of the glute, IB band, periformis, hip flexor, and lower back.
Craig sought treatment first due to the more sudden onset of his pain. He was referred to Dr. Miyamoto by Dr. Tony Aram who has been our long standing family orthopedic surgeon. Dr. Aram conducted and initial exam and recommended Dr. Miyamoto as a subject matter expert in the field. A few months later, I also consulted Dr. Arm and was referred to Dr. Miyamoto.
Our diagnosis included MRI, x-rays, and a physical examination. Craig's account of his experience was that Dr. Miyamoto asked about his symptoms, fitness habits, goals, and health. After the exam he illustrated the problem and explained what a labral tear is and how it can be common in younger world-class athletes as well as older active people. He explained that he could live with the condition but over time would lead to more severe problems and ultimately hip replacement at a relatively young age.
Craig and Dr. Miyamoto decided that surgery to repair the damage was the best course of action given his desire to continue with and active lifestyle. He elected to delay surgery for a number of months until after golf season. Surgery to repair the labrum was performed arthroscopically and included reattaching the labrum to the hip socket and repairing bone spurs.
Kandi's diagnosis included several weeks of pre-surgical physical therapy to address the muscular issues to ensure a better surgical outcome and faster recovery. After Dr. Miyamoto was satisfied with the level of improvement, she also opted to have surgery to repair the damage. After she recovered from that surgery, she had surgery on the second hip.
The process was well managed by Dr. Miyamoto, his staff and the staff at Inova Fairfax Hospital. During Kandi's physical therapy Dr. Miyamoto was in regular contact with the physical therapist to monitor progress toward being ready for surgery.
Dr. Miyamoto has developed an excellent physical therapy protocol which helps the patient get back on their feet quickly without damaging the repaired joint. It takes patience but was well worth following it to the letter. The Physical Therapist he recommended did an excellent job and they stayed in constant contact throughout the rehabilitation period.
We are delighted to say that we have both fully recovered and have no hip pain even during intense physical exertion. While Craig's handicap has not gone down, he can at least I walk 18 holes pain free. Kandi, on the other hand, is convinced that the drop in hers is related to more hip stability and no pain! She is smiling today having worked her way back up to pain-free six mile runs.
In addition to being a competent physician and surgeon, Dr. Miyamoto is very caring and attentive to his patients. If faced with the need for other orthopedic surgery in the future neither of us would hesitate to return to Dr. Miyamoto.