Devan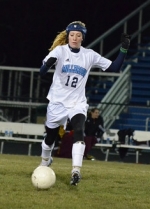 In September, 2012, during travel soccer season of my high school junior year, I started to have severe problems with my left hip. I went to one doctor who performed an x-ray on my hip but nothing showed up. I continued physical therapy but the pain still persisted. My physical therapist thought I might have torn my labrum. I was referred to Dr. Miyamoto in late January, 2013. Dr. Miyamoto had me get an MRI which showed that I had torn my labrum in my left hip. I was devastated because I thought I wouldn't be able to play soccer for my high school in the spring. Dr. Miyamoto allowed me to play in the spring and that June I had arthroscopic surgery. Following surgery, I was on crutches for two weeks and then was given Dr. Miyamoto's permission to try walking (but no running). I then was in physical therapy for 5 months and returned to playing soccer in mid-October. In a matter of weeks, I was back to playing like myself again, with no pain at all!
Dr. Miyamoto was caring, very personable and easy to talk to, and patiently answered all of my questions so I could understand the entire process. His "bedside manner" was very comforting to me and helped alleviate any fears I had with the surgery. He said that he was going to follow my senior season to see how I was performing but I thought he was just being nice when he said that. He actually would send me emails during the season to see how I was doing! How many doctors do that?
I can't thank Dr. Miyamoto enough for all he did for me. Without his help, I wouldn't have been able to have a great senior season and be pain free. Thank you, Dr. Miyamoto!