Gregory Carroll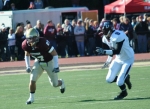 Injury: Torn right shoulder labrum
I couldn't throw or tackle while playing football. I couldn't do simple things such as putting a backpack on or lift anything heavy with just my right arm. I was not able to get a full range of motion of my shoulder and it was painful to even attempt.
Dr. Miyamoto repaired my Labrum and guided me to the proper recovery of my shoulder during rehabilitation.
My shoulder feels 100% and stronger than it was before the injury. Because of the very successful surgery I am still able to continue playing football at Kutztown University (2011 PSAC CHAMPIONS).
After my surgery Dr. Miyamoto was very caring and approachable if I had any questions or problems with my recovery.