Katrina Huckerby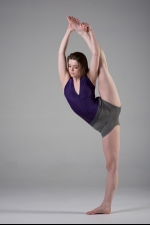 Let me start by saying that Dr. Miyamoto is a great doctor. After spending months going to different doctors and sports medicine specialists who did not really seem to understand my situation and incapable of giving me a diagnosis, Dr. Miyamoto sat down and listened to what I had to say and gave me some options about my problem. It turned out I had a labral tear in my left hip. As a ballerina, hips are quite important because of the wide range of movement required of the body.
I initially had hip problems as a result of uous training, and then I was in an All-Terrain Vehicle accident which resulted in crutches and severe pain. Once I was able to walk again, I went back to dancing. Over that year, my senior year of high school, the pain worsened and I had to do something. Of course, I had cortisone shots and an MRI before even meeting Dr. Miyamoto. I went for another MRI and my next visit, Dr. Miyamoto told me I had a labral tear and we decided I needed surgery. A week after graduation, I had my surgery to repair and clean out the area.
After about 3 months of a strict recovery regiment and a year of serious retraining, I am moving to Nashville to work with Nashville Ballet! I am very proud of how far I have improved since those painful days, and I have Dr. Miyamoto and my amazing Physical Therapist, Ashleigh Neal, to thank for all of it. I have already referred a few of my friends and coaches to Dr. Miyamoto and they agree that he is just wonderful!