Megan Kania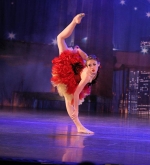 What was your injury?
I suffered from a torn labrum in my right hip, and eventually underwent arthroscopic surgery (hip impingment) on July 22nd, 2011.
What were the symptoms and difficulty you were having as a result?
When dancing, I often felt a searing pain within my hip socket, especially when turning out. I initially began to experience such pain ten months prior to my surgery, and it became gradually worse as time passed, interfering with my flexibility and other dancing capabilities.
Let us know how Dr. Miyamoto was able to diagnose and treat your injury.
When I first visited Dr. Miyamoto, it was recommended that I receive cortisone injections and an MRI. Consequently, I was diagnosed with a labral tear. I was firstly instructed to be cautious with my injury, but as time progressed and the pain grew less bearable, I chose to have arthroscopic surgery.
Finally, we would like to know the outcome of your surgery and how you are doing today.
Currently, I am doing exceedingly well. The recovery process following my surgery was tolerable – I attended physical therapy and was provided with exercise machines to use at home regularly. In due time, I was able to dance again and gleaned full use of my hip socket once again. Despite my worries, I did not lose any flexibility or the considerable extent of my turnout.