Meredith McGovern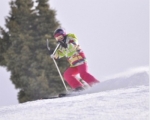 In the summer of 2011, I started having a lot of groin pain, as well many strained muscles in my hip right hip. As a 17 year old, whom always been active in sports, I could not pinpoint what was causing this pain. There were no sports injuries or accidents I could recall.
Over time, I went to multiple sports medicine doctors that specialized in hip injuries, with no resolve. By late fall, I went to see Dr. Miyamoto, who was recommended by a family friend. As a result of an MRI, it was determined I had a labrum tear. Dr. Miyamoto wanted to take the treatment of the injury slowly and make surgery our last resort. After about 6 months of physical therapy and a cortisone injection, I was in so much pain; we decided to go through with a hip arthroscopy. I could no longer tie my shoes or sleep comfortably. The time had come! Dr. Miyamoto found that the cause of my problem was the Femuroacetabular impingement. This was a malformed hip joint which I was probably born with. Dr. Miyamoto shaved down my femur head was well as fixing the torn labrum. After my surgery, Dr. Miyamoto gave me a very thorough explanation of what was wrong with my hip, and it made a lot of sense to me. He took many pictures of the inside of my joint, which made it easy to comprehend why I had been in such distress. I was extremely impressed with the recovery packet/physical therapy model he put together for me. I knew exactly what was ahead. In the end, the recovery was simple and successful.
I am in college today, two years after my surgery. I am very physically active, without restrictions. I play intramural soccer, go to the gym for two hours a day, have skied out west, and play tennis in my free time. My hip feels fantastic, and actually, better than it was when it was healthy before my surgery.
Dr. Miyamoto is a great doctor. Not only is he extremely intelligent, he is also very helpful and personable. He makes the recovery easy and is there every step along
the way to help you if you need him. I am so thankful I chose Dr. Miyamoto as my doctor so I could get back to my life. Thanks Dr. Miyamoto!