Michael Scruggs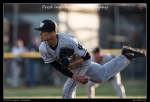 I cannot recall an exact moment when I knew I had done something wrong to my hip. The pain came one day and wouldn't go away. It became so bad that I wasn't able to pitch more than an inning without being in unbearable pain. When I initially learned that I had torn my labrum, I was devastated as basketball season was rapidly approaching. The doctor said that I would be out for 4 to 6 months and would definitely miss the entire first half of the season. However, when I visited Dr. Miyamoto, he was always encouraging and spoke about how if I worked hard I would be able to return less time.
On the day of the surgery, he was punctual, friendly and made every step of the procedure clear. After the surgery he was in constant communication with my parents, even dealing with my mother's questions via text messaging.
Less than 3 months after surgery, I was back on the basketball court and, the following year, had the opportunity to play at Virginia Commonwealth University for a State Title. In baseball, I was able to pitch entire games en-route to two all-district performances. I am currently attending Duke University where I am studying computer engineering.
Thank you Dr. Miyamoto.