Mike Smith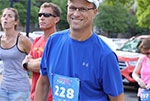 Mike Smith wins 5Ks after arthroscopic
Please share with Dr Miyamoto that, after successful knee surgery clean up he performed, I have run 15 5K races this year and won or placed in about half of them. I run 7:30 miles and am 58 years old so these assorted prizes are for my age group.
Races are in NoVa and Delaware.
Thanks for everything!
Mike