Nicole A.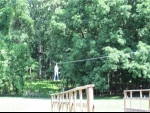 About 10 years ago I hurt my back and sprained my hip exercising. The orthopedic surgeon I saw back then, treated my back for about 2 months and told me the hip would heal on its own and to take Ibuprofen when it hurt. After about a year of minor hip pain following the sprain, I returned to the same orthopedic surgeon, who basically told me that the pain was arthritis and I could take over the counter medication to help control it. Although the initial pain in my hip was minor, over the last 10 years it has grown in severity.
For the last 2 years, my hip was in constant pain, I had developed a permanent limp, it was affecting the muscles in my thigh, my range of motion was severely limited, and pain was radiating to my knee. Although I am not an athlete, I have always considered myself to be fairly active. Prior to my sprain, I had enjoyed participating in soccer, tae kwon do, running, cycling, and hiking. Over the last 10 years, my level of activity had been forced to dramatically decrease due to the hip pain and the inability of my hip to move in certain directions. I would sit for 15 minutes and when I got up – the pain would be so bad, I could hardly walk. About a year ago, I decided I could no longer suffer, and went to see a different orthopedic surgeon. After an x-ray and an MRI, he diagnosed me with Femoroacetablular Impingement (FAI). This orthopedic surgeon thought I could greatly benefit from hip arthroscopy, but he did not perform that type of procedure himself. He referred me to Dr. Miyamoto, telling me that if he had to have the surgery himself, he would want Dr. Miyamoto to do it.
As soon as I met Dr. Miyamoto, I felt at ease. He introduced himself by telling me I had "very impressive x-rays". He concurred with the other orthopedic surgeon about the FAI and explained that I had both CAM and Pincer impingement and that someday I might need a hip replacement. He sat and explained everything to me and took me through my x-rays, pointing out the issues. He too, thought I would benefit from hip arthroscopy in that it could extend the original hip's use for 10 or more years. He explained to me what both the surgery and recovery would entail and answered all my questions.
The hip arthroscopy surgery was performed in February 2012, where Dr. Miyamoto trimmed and shaved the bone spurs that had developed around my femoral head and acetabulum. I was given a nerve block right before the surgery that would control any pain until the following day. The surgery went well and I remember waking up in the recovery room to Dr. Miyamoto showing me pictures of the hip bone and explaining a few things to me. Even though he said I wouldn't remember the conversation right after surgery, I do, and I really appreciate the fact that he was there in the recovery room.
The recovery period after the surgery was very tolerable. I was off my pain medication 2 days after the surgery and although I had to be on crutches for 2 weeks, I felt like I could walk on the hip just a week after the surgery. I felt really great, but did adhere to Dr. Miyamoto's recommendations and his physical therapy requirements to ensure I did not damage the weak hip and to ensure a complete recovery. I proceeded to go to physical therapy for 3 months after the surgery, following Dr. Miyamoto's protocol, working on increasing my range of motion and on strengthening the muscles surrounding the hip. Three months after the surgery, I was up to hiking 5 miles in the woods, I could ride a bike again, and participated in a tree top high ropes course with zip lines, with no problems. Although, I have not gotten back my complete range of motion (which was to be expected), it has increased dramatically and I am doing many things I could not before. Before the surgery, my hip would not allow me to pedal a bike properly, or to straddle a horse, and now I can do both with no pain. I am hiking long distances, which I love to do, and after long kayaking trips, I can exit the boat and walk pain free and without limping.
Dr. Miyamoto has succeeded in preserving my hip and postponed the necessity of a total hip replacement, he has allowed me to be active again and not be afraid of trying new things. He not only was a great doctor, but his personality and bedside manner is not that of a typical doctor. He was pleasant to be around, friendly, smiled a lot, answered questions, followed up with me the day after the surgery, encouraged me and made me feel at ease. It was such a pleasant experience to have a doctor that seemed to take a personal interest in your case and truly wanted you to do well. Knowing the number of patients he sees in a day and to know he treats all of his patients with such compassion is remarkable. I would and will recommend Dr. Miyamoto to anyone I know. In 10+ years, when my hip does need to be replaced, I will definitely be coming back to Dr. Miyamoto.