Rachel Husband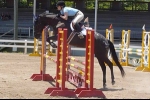 Falling is a part of horseback riding. On July 6th, 2009 I had a not-so-bad fall, landed on my feet, and thought everything was ok. I had a bit of hip pain that evening, but kept on riding. That pain would continue to increase over time, and nearly two years and four different orthopaedics later, no one could tell me why I still had pain.
I saw Dr. Miyamoto in February 2011, and he sent me for an MRI with contrast and shortly thereafter was diagnosed with a Labral Tear and Femeroacetabular Impingement. I discussed my options with Dr. M, as I was getting into the middle of my competition season, and was hoping I could wait just a couple of months more. However, that did not last very long and I was back and scheduling surgery at the end of March.
Dr. M, talked me through the process of surgery and explained everything very thoroughly and took the time to answer all of the questions that I had. When surgery day came, he made me very comfortable and relaxed and I had no doubt I had chosen the right doctor.
Surgery went well, and the rehab protocol that we had discussed prior to surgery was very true, and I followed it to the letter. I was able to return to riding in a shorter time than expected, and doing better than before. I had honestly forgot what it was like to be able to ride without being in serious pain afterwards.
Thanks to Dr. Miyamoto I was able to return in time to be able to make the majority of the rest of the season and finish as Reserve Champion for two divisions in the state for 2011
.