Shaun Reddy, MS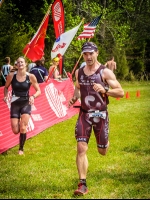 What was your injury?
Femoracetabular impingement at the right hip joint.
What were the symptoms and difficulty you were having as a result?
My symptoms included general hip pain following exercise, sharp hip pain during certain hip movements and hip discomfort when sitting for longer than 30 minutes. After learning about the long-term physical implications associated with the condition, I experienced mental anxiety about the health of my hip and my ability to lead the highly active lifestyle that I enjoy.
Let us know how Dr. Miyamoto was able to diagnose and treat your injury.
I became a patient of Dr. Miyamoto while looking for a second opinion on options for addressing my hip condition. I brought an X-ray and MRI of my hip to my first appointment. Dr. Miyamoto reviewed both, performed a physical evaluation of my hip and interviewed me about my symptoms, exercise history, and my current/future physical activity goals. Based on this information, Dr. Miyamoto presented the available treatment options and associated risks. He presented the information objectively, addressed my concerns candidly and provided ample time & attention to exhaust all of my questions. Ultimately, I elected to undergo a hip scope to prevent further damage to my hip while pursuing my highly active lifestyle.
Dr. Miyamoto's office provided the necessary paperwork to my insurance company. The surgery was approved and scheduled within two weeks. I felt prepared for the surgery itself and the rehabilitation protocol to be followed afterwards. Surgery went exactly as Dr. Miyamoto had explained. I left the hospital with his contact information should any unforeseen issue arise and an informational packet that including the medication detail and the physical therapy rehab protocol. The process was efficient and seamless.
Finally, we would like to know the outcome of your surgery and how you are doing today.
I'm a personal trainer, triathlon coach, and elite-level triathlete. Needless to say, my professional and personal lives revolve around exercise. Two weeks after surgery, I resumed my full personal training schedule. After following the rehabilitation protocol, I was cleared for exercise and resumed my own exercise program 3-months out of surgery.
A week prior to my evaluation by Dr. Miyamoto, I registered to compete in my first Ironman event (i.e., 2.4-mile swim, 112-mile bike, and a 26.2-mile run). This is no small undertaking for the healthiest of individuals, let alone someone 8-months out of hip surgery. At the time of this testimonial, I am 8 weeks out from the big event (i.e., 07/22, Lake Placid, NY). At my current level of training, I'm averaging 4-5 miles in the pool, 150-200 miles on the bike, and 30-40 miles in my running shoes each week. The previously effected hip is handling the Ironman training program like a champ.
I have no regrets about undergoing the hip scope and my decision to have Dr. Miyamoto perform the surgery. Although the time spent in rehab felt like a step back from my previous level of exercise, it was all worth it. I cannot put a price on the peace of mind the surgery has provided me - not only am I leading the active lifestyle I want to lead, I'm able to do so without compromising my hip's long-term health. In retrospect, the two steps forward are definitely worth the one step back and Dr. Miyamoto was an excellent choice to guide me through that experience.
Congratulations to Shaun for completing his first IRONMAN competition in Lake Placid, NY on July 22, 2012!!