Tonya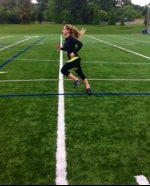 Last year I tore my meniscus in my left knee while playing flag football. The pain of feeling the tear was unlike any pain I've ever felt before. I instantly could not walk and knew something was very wrong. My knee was swollen, warm to touch and could not bear weight. Luckily, my friend referred me to Dr. Miyamoto and from the first visit I knew I was in good hands. Dr. Miyamoto conducted his own tests on my knee, asked questions regarding my injury, and came up with a possible diagnosis which was a meniscus tear and he was right (MRI confirmed).
He helped ease the swelling by draining about 4oz of fluid during the first visit and 30 minutes later I noticed the swelling had gone down and the pain decreased. About a week later I had surgery and again Dr. Miyamoto exceeded my expectations. Not only did he prepare me for what was expected before and after the surgery, but on the surgery day he had taken his time and did a fine job (I only have 5 small incisions which are barely visible today). Dr. Miyamoto helped facilitate coordination to have a game ready machine at my home to help ice my knee and reduce swelling right after surgery (like the pros). The machine worked wonders and so did the physical therapist Dr. Miyamoto referred me to. With a great doctor, physical therapy visits, and routine exercise my knee gets stronger everyday and I have Dr. Miyamoto to thank for that.
Today I could run miles with little discomfort to no pain at all and am back in my heels! If I had to do it all over again, I would have never played flag football that day, but if the tear was inevitable then I would not change a thing regarding the doctor and treatment I chose. Dr. Miyamoto has and will continue to have my highest recommendation.